Xur location August 6, 2021 – Where is Xur today? This is yet another week of his arrival in Season of the Chosen. Not much is known about what will happen to Xur? Since most of his locations have been taken out of the game. Except for EDZ and Tower. I expect them to add new places for his arrival for this new DLC which should be fun to figure out for the first time.
Xur is the shady vendor who wears a hood and delivers exotics to all the Destiny 2 guardians every week. He brings one exotic for each class; Hunter, Warlock, and Titan. He also brings an exotic weapon and engram.
---
Beyond Light Locations for Xur
His locations are limited, and he only pops in these locations –
Tree on Nessus (Watcher's Grave)
As mentioned earlier, I expect Xur to arrive in newer locations. The map and video location guide will be updated here on Friday.
Discontinued Locations
Barge on Watcher's Grave (Nessus still exists but the Barge is gone)
Giant's Scar on IO
The RIG on Titan
All of the Xur Locations can be found in the end of this article.
---
Xur Location August 6, 2021
We will update his location below once he arrives. His time of arrival is 9:00 AM PST.
Note: The locations for Xur will most probably change with the Beyond Light DLC since many planets are retiring. Make sure to bookmark this page because I will make sure to update the exact location.
Note: Xur has been bugged for a few weeks now. If for some reason you don't find him at the location mentioned below, Just switch your character and return to the location again to find him.
---
Xur's Location this week: _____
Xur's Inventory This Week
Xur is selling:
_____
_____
_____
_____
Exotic Engram
---
Xur's Inventory Last week
Telesto (Fusion Rifle)
Actium War Rig (Titan Chest)
Lucky Pants (Hunter Legs)
Claws of Ahamkara (Warlock Arms)
Exotic Engram
I'll also add a section here recommending the must grab for the new players. Since random rolls are no more getting the exotics right away might be the right choice, but for new players, this will not be the case because of the cost.
---
For Destiny 2 New Light players, Xur might be the best source of getting exotics. You get guaranteed armour and a weapon each week, which is great. One thing that you might run short of would be the Legendary shards, the engram costs 97 shards and this might be a steep cost for the new players.
After Shadowkeep, you can get all older exotics that the game has, except the quest and raid ones.
---
Xur Location Today (Beyond Light)
Note: Locations might have changed with the Beyond Light update, I will be adding the new locations below once we know about them. You can use click here for the old locations map.
Winding Cove on Earth
Winding Cove in on EDZ (also called Earth). Spawn right on the Winding Cove and move towards the area marked below and collect your goodies. If you cannot locate him, just look for players around, if the vendor has just arrived, there will be players surrounding him.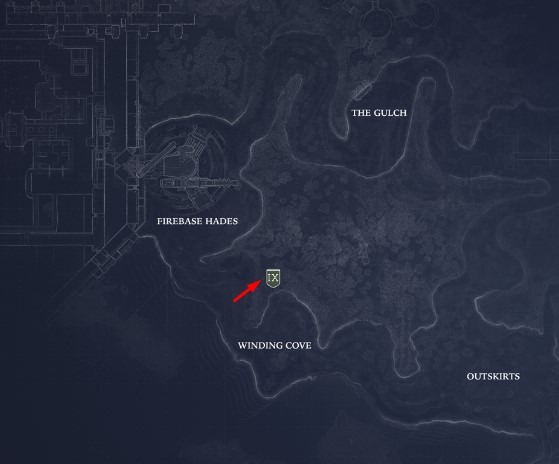 The Tower, Hangar
Spawn on the Tower, take left go down the stairs. Keep heading forward towards the Dead Orbit. There's a tower behind Dead Orbit, this is where Xur is standing with his goodies. Use the map given below for the exact location. You can lunge or take the stairs to reach him and collect the goodies.
Watcher's Grove, Nessus
Spawn at Watcher's grove, turn left and go through the open fields towards the big tree, and he will be up on the limb of the tree.
That's all for the vendor today!